What is the Law of Attraction?
The Law of Attraction is not really a SECRET. It has been openly written about, by a great number of authors, since the New Thought movement of the early 1900s. However, it is true that this reality has been kept from the masses for thousands of years, known only to the arcane Mystery, Magickal, and Hermetic schools.
The implications from findings in quantum physics and epigenetic biology are coalescing to support the vibrational, energetic, and holographic nature of reality and gives cause for reflection upon the validity of extraordinary phenomena reported of yogis, chi/qi healers, and shamans throughout history. The validity of this perception of reality supports the view that we are spirits creating and condensing energy to produce the holographic effect of inhabiting a physical body in order to experience "things."

In essence, "thoughts are things," and they affect our reality, and effectively manifest it, at a micro and macro level, regardless of whether we are conscious or unconscious of them. In a nutshell, thoughts and words reflect beliefs, which manifests reality, for good or for bad. Becoming conscious of what you think and say, allows you to understand your belief systems and conditioned patterns of behavior. In doing so, you also can consciously change your beliefs to better reflect how you would like to change your current reality, if such change is desired.

Through "intention", emotional charge, and behavior, the well known "like attracts like" begins to take effect. Your external reality will change as a result of changes you make in your belief systems. Since this internal "power," which everyone has, is outside of space and time, what you think actually creates the instant you think it. However, the desired change will usually not occur instantaneously within the external time/space arena for 2 reasons. First, we are here to learn how to manipulate and create with energy, and a time delay is needed in case we have second thoughts about what we are desiring to create and a chance to undo possible untoward effects. And second, we have been historically taught, mainly through the materialist philosophy of the last 300 years, that this "power of thought" is nonsense. So changing contrary beliefs, which we have been conditioned or schooled to believe for many years, is not as easy as it sounds.

In many of the books below, exercises are given to teach how to become conscious of your belief systems, and ways to experiment to discover the validity of how to change this energetic reality through thought alone. What is most intriguing about this is that once you apply these methods, you will learn that you need not worry or agonize as to the "how" something will change. The "hows" are handled by the "Universe" through synchronizations and manipulation of circumstances producing opportunities that will result in the desired effects.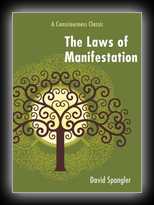 The Laws of Manifestation
by David Spangler
Over thirty years ago, a small band of people began an intentional community called Findhorn. They lived by applying principles of attracting to oneself, through love, whatever materials, energy, or help were needed to promote wholeness or further growth. David Spangler, who was one of those early residents of Findhorn, began writing down how those laws worked. In 1975, his writings were first published as The Laws of Manifestation. This long-unavailable book is now available again with a new introduction by the author.

Spangler shows how we can all transform our lives by working with these natural laws. In clear and lucid prose, he recounts the history of manifestation and how to grow in spiritual riches (the most important of all) in a step-by-step guide to enlightenment. While other experts in this suddenly burgeoning field tend toward applying manifesting energy toward real estate, money, and myriad materials, Spangler looks at the basis of what he describes as a change of form, or state, or condition of being, NOT creating something out of nothing.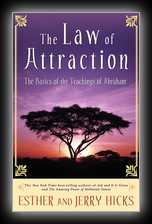 The Law of Attraction
by Esther and Jerry Hicks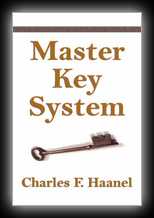 The Master Key System
by Charles F. Haanel
The Master Key System by Charles F. Haanel is the only clear, concise, comprehensive, definitive, distinctive, cogent, and scientific presentation of the Creative Power of Thought ever formulated by any one person at any one time.
The Master Key System is a system that teaches the ultimate principles, causes, effects, and laws that underlie all attainment and success. When you want to attain something, The Master Key System will show you how to get it. The Results you will attain from using this system are so startling as to appear incredible. For this reason, more and more people are becoming students of The Master Key System than ever before.
Unlock your power and potential by learning The Master Key System. You will learn the solution to attaining your goals and solving all of your problems... Personal, financial, and business. This is the definitive edition of the timeless classic about getting health, wealth, and success.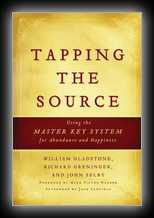 Tapping The Source - Using the Master Key System for Abundance and Happiness
by William Gladstone - Richard Greninger - John Selby
Easy to use, enjoyable to read, and proven effective, this is a revolutionary new method for taking advantage of the "law of attraction" drawn from the legendary Master Key System.
Thanks to such books as Napoleon Hill's Think and Grow Rich and the recent best-selling The Secret, millions of people now realize that success comes from more than just chance, fate, good connections, or even hard work. At the same time, these volumes don't offer a practical daily process for attaining your goals-and that's exactly what Tapping the Source provides. It teaches a daily method that stimulates the process for manifesting your dreams outlined in The Secret. These techniques can be applied to any aspect of life, from sex to career to creativity. Just "tap into the source"-daily Manifestation Sessions, each totaling no more than three to five minutes-and live the life you want!
What is the MASTER KEY SYSTEM?
The genesis of the ideas in Tapping the Source-which are a natural extension of the concepts expounded upon in The Secret-is Charles Haanel's classic 1912 work, The Master Key System. Although Napoleon Hill is popularly considered the father of the "law of attraction," a letter from Hill to Charles Haanel, reproduced in Tapping the Source, thanks Haanel for his illuminating ideas. The letter is dated 1919, 18 years before Think and Grow Rich was published.
Additional References
There are currently no additional references. Please check back or sign up for our eMails to be notified of new updates.