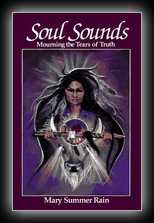 Soul Sounds - Mourning the Tears of Truth
by Mary Summer Rain
1992
Why Mary Summer Rain wrote and published Soul Sounds:
"I wanted to have a personal record to review when I became very old and too forgetful of mind to remember. . .I've been advised by reasons spoken and unspoken, to have this very private diary published. This idea was not sanctioned by me until the last possible moment, because I'd thought no one else was going to be reading my words, and I'd written as honestly and outspokenly as I could throughout the journal pages. I'd recorded my personal thoughts, memories, and even confessions. In essence, this journal does indeed turn me inside out, with respect to revealing my true thoughts and inner self to the public. But, as always, I abide by how I am guided; whether I will end up being chastised, ridiculed, embarrassed, or exposed because of the publication of this book is not important anymore."