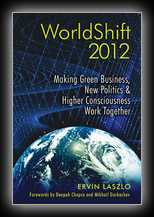 WorldShift 2012 - Making Green Business, New Politics & Higher Consciousness Work Together
by Ervin Laszlo
2009
A handbook for conscious change that could transform the current world crisis into planetary renewal
Outlines the problems that make today's world prone to breakdown and suggests actions we must adopt in politics, business, and everyday life
Replaces the limited consciousness of our failing society with the holistic consciousness that is rooted in the Akashic field
The deepening economic crisis and the threat posed by climate change and other social and ecological trends has caused many to despair. But with great danger comes great opportunity--the opportunity for fundamental change that will transform our societies from top to bottom.
In WorldShift 2012, Ervin Laszlo brings together insights for creating sustainable positive change from spiritual leaders, scientists, and visionary businesspeople--people such as Albert Einstein, Mohammad Yunus, Václav Havel, Eckhart Tolle, Ken Wilber, David Korten, Paul Hawken, and Tomoyo Nonaka, former CEO of Sanyo Electronics.He shows how we can replace the limited consciousness of our failing society with the holistic consciousness that is reflected in the unified field of quantum physics: the Akashic field.
We have an opportunity to move from the current political and business model of grow or die to a sustainable world respectful of human beings, nature, and the planet. Change on this level calls for a profound shift in consciousness and a clear understanding that--as cutting-edge physics shows--we are truly connected with each other and with the cosmos.
This book presents clear evidence of this connectedness and describes the tools we need to make our world greener and our planet safer as we strive to realize the holistic consciousness of connection through the Akashic field.