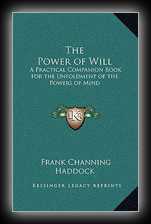 Power of Will - A Practical Companion Book for Unfoldment of the Powers of Mind
by Frank Channing Haddock, M.S., Ph.D.
1907
1907. Three parts embracing the Theory and Practice of a Growing Will; Direct Control of the Personal Faculties; And Success in the Conduct of Affairs. Partial Contents: The Will and Success; The Will and Sense-Culture; Mental Regime; Destruction of Habit; Contact with Other People.