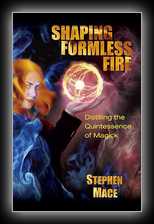 Shaping Formless Fire - Distilling the Quintessence of Magick
by Stephen Mace
2005
Magick depends upon no abstract philosophies, and doing it requires neither devotion to any god or demon nor knowledge of the True Keys of the Mysteries. Instead it is a technique for recognizing and manipulating psychic energy, both within the psyche and outside it, and for acquiring the mental skills we need to do this effectively. If the details of this technique can seem involved, well, the psyche is a complicated instrument, and psychic energy is slippery stuff to deal with. We must learn to manage it within our psyches and also to split it off so it can act independently to produce the "meaningful coincidences" we require.
Magick is a psychic technology, a collection of observations about psychic energy and the techniques for manipulating it. Shaping Formless Fire presents these with a simple elegance that contradicts the notion that Magick must remain a hidden art. There is psychic energy with us and all around us. We use its power to make our worlds, and to master it is to learn how to make the worlds we require. To see it as merely the way we perceive the world is to put ourselves at its mercy, and forfeit its power.