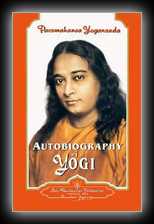 Autobiography of a Yogi
by Paramhansa Yogananda
1946
One of the Top 100 Spiritual Books of the Twentieth Century New Bonus Materials added to this edition include the last chapter that Yogananda wrote covering the years 1946-1951 that was not available in the original edition. The eulogy that Yogananda wrote for Gandhi. A new afterword by Swami Kriyananda, one of Yogananda's closest disciples.
Yogananda was the first yoga master of India whose mission it was to live and teach in the West. His first-hand account of his life experiences includes childhood revelations, stories of his visits to saints and masters in India, and long-secret teachings of Self-realization that he made available to the Western reader.