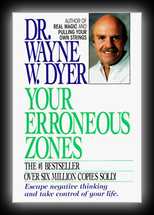 Your Erroneous Zones
by Dr. Wayne W. Dyer
1976
From the author of the multimillion-copy bestseller Pulling Your Own Strings, positive and practical advice for breaking free from the trap of negative thinking and enjoying life to the fullest.
If you're plagued by guilt or worry and find yourself unwittingly falling into the same old self-destructive patterns, then you have "erroneous zones"--whole facets of your approach to life that act as barriers to your success and happiness.
If you believe that you have no control over your feelings and reactions, you give up the many choices that are available to you. Dyer shows how you can take charge of yourself and manage how much you will let difficult times--and people--affect you.
If you spend more time worrying what others think than working on what you want and need, you will always be disappointed. Dyer shows that only you can make yourself happy and points the way to true self-reliance.
If you are still caught up in old labels for yourself and an out-of-date self-image, you cancel out your present potential. Dyer shows how you can break out of the patterns of the post to become fulfilled in the present.
If you depend upon others for your well-being, you lose yourself. Dyer shows how to take control of your own needs and learn to give and receive love without limits.