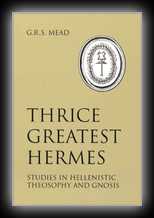 Thrice-Greatest Hermes - Vol 1 - Studies in Hellenistic Theosophy and Gnosis
by G.R.S. Mead
1906
Preface THESE volumes, complete in themselves as a series of studies in a definite body of tradition, are intended to serve ultimately as a small contribution to the preparation of the way leading towards a solution of the vast problems involved in the scientific study of the Origins of the Christian Faith.
They might thus perhaps be described as the preparation of materials to serve for the historic, mythic, and mystic consideration of the Origins of Christianity, where the term mythic is used in its true sense of inner, typical, sacred and logic, as opposed to the external processioning of physical events known as historic, and where the term mystic is used as that which pertains to initiation and the mysteries.
The serious consideration of the matter contained in these pages will, I hope, enable the attentive reader to outline in his mind, however vaguely, some small portion of the environment of infant Christianity, and allow him to move a few steps round the cradle of Christendom.
(Typographical errors above are due to OCR software and don't occur in the book.)