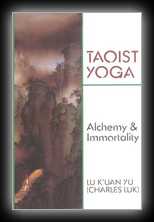 Taoist Yoga - Alchemy and Immortality
by Lu K'uan Yu (Charles Luk)
1973
A Translation, with introduction and notes, of The Secrets of Cultivating Essential Nature and Eternal Life (Hsin Ming Fa Chueh Ming Chih) by the Taoist Master Chao Pi Ch'en, born 1860. Lu K'uan Yu was born in Canton in 1898. His first Master was the Hutuktu of Sikang, an enlightened Great Lama. His second Master was the Venerable Chan Master Hsu Ysu Yun, the Dharma-successor of all five Ch'an sects of China.