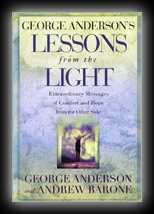 George Andersons Lessons from the Light
by George Anderson, Andrew Barone
1999
For 27 years, George Anderson, widely considered the world's greatest living medium, has listened to those on the other side, gaining a unique awareness of what those souls want his millions of believers to know, to understand, and to accept.
Anderson offers a vivid and intimate account of his spiritual communications. He defines all that he has experienced and directly answers the many questions most commonly asked about the ultimate path to the Infinite Light. They are messages that not only enlighten us about what awaits, but also teach us how to fulfill our significant roles here on earth and in life.