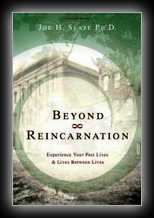 Beyond Reincarnation
by Joe H. Slate
2005
Exploring past lives, communicating with the departed, meeting spirit guides. . . . According to Dr. Joe Slate, accessing the spirit realm is not only possible, it's beneficial for our present lives and future spiritual evolution. Past-life knowledge can offer direction and balance, explain fears and compulsions, build self worth, and promote acceptance of others.

This introduction to reincarnation examines the mind/body/spirit connection and the existence of the ageless soul. Also presented here are Dr. Slate's simple, laboratory-tested strategies for exploring the nonphysical world. Readers can learn how to probe past lives and preexistence through self hypnosis, astral travel to new spiritual dimensions, and communication with spirits through table tipping. The author's own fascinating experiences, along with personal accounts of his subjects who have tested his techniques, are also included.