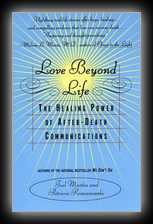 Love Beyond Life: The Healing Power of After-Death Communications
by Joel Martin, Patricia Romanowski
1997
"Every time I feel sad or wish my brother was here to hug me, no matter where I am, I hear his favorite song on the radio."
More than one hundred million Americans claim to have had contact with the dead through deathbed visions, dream visitations, and otherwise inexplicable lifesaving premonitions. Is it possible to bridge the gap between our world and the hereafter and make contact with departed family and friends?
In this groundbreaking work, authors Joel Martin and Patricia Romanowski share the dramatic firsthand testimonies of men and women who have connected with loved ones who have passed over. Providing compelling evidence for these experiences and offering new insight into the afterlife, Love Beyond Life is at once fascinating, comforting, and enlightening, an invaluable resource for anyone who yearns to make sense of life's final journey.