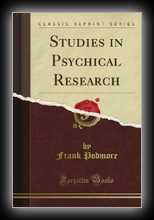 Studies in Psychical Research
by Frank Podmore, M.A.
1897
For most of his life a clerk in the post office, Frank Podmore (1856-1910) was a prolific author on psychical research. As an undergraduate, Podmore became interested in the ideas of spiritualism, and he joined the British National Association of Spiritualists. Eventually disillusioned, Podmore co-founded several organizations: the Progressive Association (in 1882); the Fellowship of the New Life (1883); and, spurred by his desire to see political change, the Fabian Society (1884). Podmore's membership in the Society for Psychical Research influenced his activities and interests, and he spent the next twenty years investigating and writing on psychical phenomena. His second book (of 1897) discusses a range of topics, from spiritualism to poltergeists to telepathy. Podmore seeks to ascertain the truth about psychical phenomena, and this work will be of great interest to scholars interested in the history of science, psychical research, and Victorian scientific and spiritualist movements.