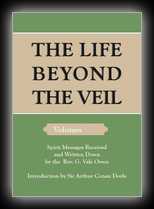 The Life Beyond the Veil Book 1 - The Lowlands of Heaven
by Rev. George Vale Owen
1921
FROM THE PREFACE
This volume contains the first of a series of communications from beyond the veil, received and written down by the Rev. G. Vale Owen, Vicar of Orford, Lancashire.
It should be clearly understood that these messages, while complete in themselves, deal chiefly with the "Sphere of Light" nearest to the earth in which the Vicar's mother, who is the principal communicator, states that she dwells, and that her impressions are chiefly individual to herself and are thus those of a newcomer and learner whose experiences are limited to a restricted area. Wider regions and greater heights and depths are explored, the inter-relation of this and the after-life is more fully explained, and both narrative and exposition of aims and principles are more vigorous, clear and comprehensive in succeeding messages, contained in other volumes of the series which follow this.
FROM THE INTRODUCTION
by Sir Arthur Conan Doyle
The long battle is nearly won. The future may be chequered. It may hold many a setback and many a disappointment, but the end is sure.
It has always seemed certain to those who were in touch with truth, that if any inspired document of the new revelation could get really into the hands of the mass of the public, it would be sure buy its innate beauty and reasonableness to sweep away every doubt and every prejudice.
Now world-wide publicity is given to the very one of all others which one would have selected, the purest, the highest, the most complete, the most exalted in its source. Verily the hand of the Lord is here!
The narrative is before you, and ready to speak for itself. Do not judge it merely by opening, loftly as that may be, but mark the ever ascending beauty of the narrative, rising steadily until it reaches a level of sustained grandeur.
Do not carp about minute details, but judge it by the general impression. Do not be unduly humerous because it is new and strange.
Remember that there is no narrative upon earth, not even the most sacred of all, which could not be turned to redicule by the extraction of passages from their context and by over-accentuation of what is immaterial. The total effect upon your mind and soul is the only standard by which to judge the sweep and power of this revelation.