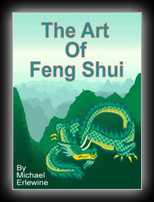 The Art of Feng Shui
by Michael Erlewine
2006
Feng-shui is about adjusting the space around you so that you can live more fully, adjusting your space, and so on.
Feng-shui is also about learning to pay attention to signals and signs your body has been getting all along - becoming aware of them, and acting on this awareness.
In this 550 page book award-winning astrologer Michael Erlewine provides a comprehensive guide to using feng-shui in your home and on your property, plus how to develop an awareness of feng-shui reality.
Erlewine, who has made repeated trips to China and Tibet, is knowledgeable not only about feng-shui, but also about the Asian astrology, Geomancy, and the philosophy behind it.
The old saying that a picture is worth 1,000 words is especially true when it comes to feng-shui. Once you see a feng-shui concept illustrated, it is easy to grasp. Included here are over 500 diagrams, photos, and illustrations. If you are looking for complete guide to basic feng-shui, with pictures each step of the way, this is it.