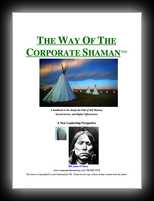 The Way of the Corporate Shaman
by Bill Jason O'Mara
2003
This is a copyrighted work and we are searching to find where it can be purchased. It is a great book and we hope to make it available soon! Here is an excerpt:
In all my decades as a business consultant, I never thought I would see this day with such a profound shift in business consciousness. A door has opened, and a spiritual awakening is taking place. It's happening across the country, on the highest corporate levels and in small businesses. People are becoming more enlightened in their lives and in their choices.
I live a dual life as both business consultant and spiritual seeker, so I naturally incorporate spiritual practices in my consulting work. Historically, in light of the traditional corporate over-reliance on bottom- line control-oriented management, I kept my Shamanic or healer identity under wraps. I was afraid I would not be taken seriously. Thus, I might lose the opportunity to make a positive difference for my clients if I spoke in Shaman terms.