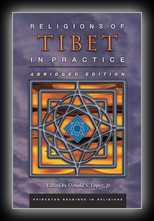 Religions of Tibet in Practice
by Donald S. Lopez, Jr. (ed)
1997
Religions of Tibet in Practice is a landmark work, the first major anthology on the topic ever produced. It presents a stunning array of works (hagiographies, pilgrimage guides, prayers, accounts of visits to hell, epics, consecration manuals, sermons, and exorcism texts) that together offer an unparalleled view of the realities of those who have inhabited the Tibetan cultural domain over the centuries. The volume provides a wealth of voices that together lead to a new and more nuanced understanding of the religions of Tibet.
The thirty-six chapters are testimony to the vast scope of religious practice in the Tibetan world, past and present, offering works heretofore unknown. The chapters are organized thematically under five headings: Accounts of Time and Place, Remarkable Lives, Rites and Techniques, Prayers and Sermons, and Dealing with Death and Other Demons. They juxtapose materials from different sects, historical periods, and geographical regions in an attempt to broaden the range of what we understand the religious practices of Tibet to encompass. Each chapter contains a translation and a substantial yet accessible introduction by a leading scholar of Tibetan religions. Religions of Tibet in Practice represents the largest sourcebook on Tibetan religions ever assembled, a work of great value to scholars, students, and general readers.