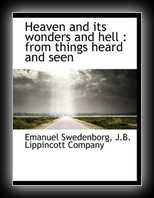 Heaven and its Wonders and Hell from Things Heard and Seen
by Emanuel Swedenborg
1769
Translated from the Latin of EMANUEL SWEDENBORG, [1688-1772]. Heaven And Its Wonders And Hell From Things Heard And Seen was first published in English in 1892. It contains accounts and stories from Heaven, about The World Of Spirits and Man's State After Death, and Hell. Many of the earliest books, particularly those dating back to the 1900s and before, are now extremely scarce and increasingly expensive. We are republishing these classic works in affordable, high quality, modern editions, using the original text and artwork.