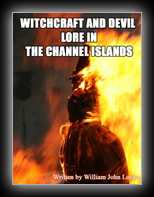 Witchcraft and Devil Lore in the Channel Islands
by John Linwood Pitts
1886
The Witchcraft superstitions of the Channel Islands, sad as they were in their characteristics and results—as is abundantly evidenced by our judicial records—were but a part and parcel of that vast wave of unreasoning credulity which swept across the civilised world during the Middle Ages, and more or less affected every class of society, and all sorts and conditions of men. From the lists given in the following pages, it will be seen that in about seventy-one years, during the reigns of Elizabeth, James I. and Charles I., no fewer than seventy-eight persons—fifty-eight of them being women, and twenty of them men—were brought to trial for Sorcery in Guernsey alone. Out of these unfortunate victims, three women and one man appear to have been burnt alive; twenty-four women and four men were hanged first and burnt afterwards; one woman was hanged for returning to the island after being banished; three women and one man were whipped and had each an ear cut off; twenty-two women and five men were banished from the island; while five women and three men had the good fortune to be acquitted. Most of these accused persons were natives of Guernsey, but mention is made of one woman from Jersey, of three men and a woman from Sark, and of a man from Alderney.