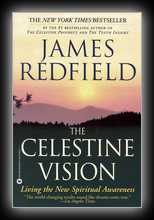 The Celestine Vision
by James Redfield
1997
A Wonderful New Addition to the Vision that Began with the Celestine Prophecy... When James Redfield wrote The Celestine Prophecy and The Tenth Insight, he crystallized a new spiritual vision for millions of people around the globe. Since then people have been gathering together to discuss how spiritual experiences have touched their lives and to explore the global renaissance already under way.
Now in an exciting nonfiction book, James Redfield further helps us explore our unique missions on this planet. Personalizing the ideas of his earlier works, he delves into the hidden energies of our individual life dramas and shows us the mystical experiences that resolve them. Through self-disclosure, he clarifies how mysterious coincidences led him toward a specific destiny and can lead us to ours. And, finally, the principles of synchronicity, connection, and purpose all converge in Redfield's lucid discussions about history and science, allowing us to see their unbroken chain of evolution toward a better world. Inspiring and enlightening, The Celestine Vision is a wonderful, wise companion as we expand our consciousness and take action to create a truly joyous Earth.