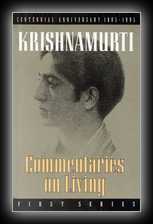 Commentaries on Living - First Series
by J. Krishnamurti
1956
Krishnamurti's essential message is that, to find truth, we must go beyond the limits of ordinary thought. In public talks worldwide, he strove to free listeners from conventional beliefs and psychological mind-sets in order to understand what is.
This 3-volume series records his meetings with individual seekers from all walks of life, during which he comments on the struggles common to those who work to break the boundaries of personality and self-limitation. In the first volume Krishnamurti discusses many topics, including knowledge, belief, simplicity of the heart, love in relationship, ambition, and clarity in action.