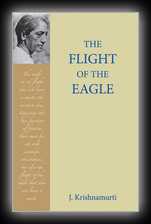 The Flight of the Eagle
by J. Krishnamurti
1971
Regarded as one of the great spiritual teachers of the twentieth century, Krishnamurti delivered his radical insights with a disarming simplicity. Here, in records of talks and dialogues in London, Paris, Amsterdam and Saanen, Switzerland, he speaks on freedom, fragmentation, radical change and more.

Chapter titles include: Freedom, Fragmentation, Meditation, Can Man Change?, Why Can't We Live at Peace?, The Wholeness of Life, Fear, The Transcendental, On Violence, On Radical Change, The Art of Seeing, On Penetrating the Unknown.