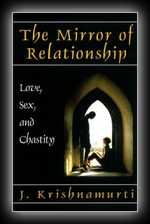 The Mirror of Relationship - Love, Sex, and Chastity
by J. Krishnamurti
1992
This book features excerpts on the title's theme from Krishnamurti's talks and discussions held between 1933 and 1967. They have proven helpful in dialogues and for use in high school and college classrooms. There are talks on marriage, love, relationship, and sex. Krishnamurti states, "sex becomes an extraordinary, difficult, and complex problem so long as you do not understand the mind."

Krishnamurti asks the reader to investigate essential questions: How can I live with another without conflict? Why are relationships difficult? What is awareness in relationship? Do I really know what love is? What does it mean to learn in a relationship? What is the role of thought and memory in relating to another?

"There is no escape from relationship. In that relationship, which is the mirror in which we can see ourselves, we can discover what we are, our reactions, our prejudices, our fears, depression, anxieties, loneliness, sorrow, pain, grief. We can also discover whether we love or there is no such thing as love.