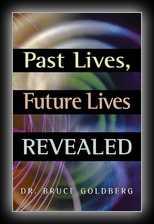 Past Lives, Future Lives Revealed
by Bruce Goldberg
2004
Dr. Goldberg developed the technique and field of progressing patients into future lives in 1977.
In this groundbreaking book, a sequel to his best-selling Past Lives, Future Lives, he reveals the implications of karma in our lives, how we are affected by reincarnation, and how hypnosis can reveal our pasts and our futures. He also includes some enthralling case histories from the 35,000 past- and future-life regressions (of some 14,000 individuals) he has conducted.
As unbelievable as many of these cases may appear to the skeptic, Dr. Goldberg spends a great deal of time dispelling the myths surrounding the practice of past/future life hypnotherapy and showing how it is now recognized as a valid and viable tool by many experts throughout the world.
This book contends that people have the power to customize and control their destinies. We can all use hypnotherapy to eliminate past and current problems and attain our karmic purpose. To help readers do so on their own, Dr. Goldberg includes detailed self-hypnosis scripts on past-life regression, future-life progression, ascension techniques, and many more.