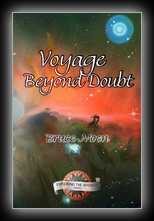 Voyage Beyond Doubt (Exploring the Afterlife)
by Bruce Moen
1998
Visit the afterlife with explorer Bruce Moen, as he maps out the territory ahead of us all--beyond physical death--in this remarkable second book in the Exploring the Afterlife series. The ultimate travel memoir, Voyage Beyond Doubt allows you to witness the power of the human mind as moen uses his Monroe Institute training to communicate with the dead, journey through the afterlife and come back again with a greater understanding of life, death, and what it's really all about.
Moen relates numerous incredible experiences of discovery: meeting his dead grandmother, aiding lost souls to find their way to the afterlife, beginning a "ghost-busting" service, and gaining a fuller, more complete understanding of the regions of the nonphysical. Moen even encounters now-deceased OBE explorer Bob Monroe in his travels in the beyond. A thrilling adventure into the unknown. Voyage Beyond Doubt is a travel guide for the new intrepid explorers of the nonphysical realms.