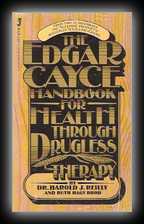 Edgar Cayce Handbook for Health Through Drugless Therapy
by Harold J. Reilly, Ruth Hagy Brod
1975
Hundreds of practical tips for excellent health resulted from physiotherapist Harold Reilly's use of the Edgar Cayce remedies in his practice. For more than thirty years the Reilly Health Institute in New York City's Rockefeller Center was a health mecca for prominent people. Government and business leaders such as Nelson Rockefeller, David Sarnoff, and George Meany; actors and actresses such as Mickey Rooney, Gloria Swanson, and Leslie Caron; international jet setters such as the Duke and Duchess of Windsor and the Dowager Empress of Egypt; and the famous from all walks of life, from Norman Vincent Peale to Robert Frost, credited Dr. Reilly with helping them to enjoy life to the fullest. This book covers those tips – for healing, diet, nutrition, fitness, beauty, and longevity – in a format that is easy to understand and follow.