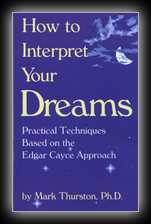 How To Interpret Your dreams - Based on Edgar Cayce Readings
by Mark A. Thurston, Ph.D
1978
This book is a roadmap to greater self-knowledge through dream interpretation. Dr. Mark Thurston has combined insights from the hundreds of Edgar Cayce readings on dreams with his own background in dream interpretation to give us a clearly written, easy to understand spiritual handbook. The author explains:
How to find and use the most important ideas presented in your dream.
The part feelings play in overall dream interpretation.
How to work with and break down the symbols in dreams.
The keys to knowing if your dream is telepathic.
How to get specific answers to problems.
Properly used this book can be a window inward to enrich your life through dream interpretation.