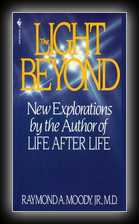 The Light Beyond
by Raymond A. Moody, Jr., M.D.
1988
In The Light Beyond, Dr. Raymond Moody, the world's leading authority in the field of near-death experiences (NDEs), investigates fascinating new case studies. Common patterns emerge from these reports, such as meeting loved ones in the afterlife, being surrounded by a bright beautiful light, reviewing one's life, and being able to view scenes on earth while outside the body. Moody looks at various aspects of the NDE, including children's reports and those of other researchers in the field. He also examines the positive life-changing effects of NDEs.
Dr. Moody's groundbreaking international bestseller, Life After Life, first published in 1975, established the field of NDE research. He is the author of eleven books and has appeared numerous times on national television programs, such as NBC Today and Oprah. In addition to conducting ongoing research into the paranormal, Moody trains doctors, nurses, hospice workers, and others in all aspects of his work.
Co-author Paul Perry has written four New York Times bestsellers and five books with Dr. Moody.