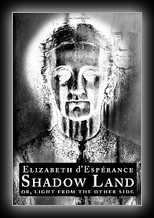 Shadow Land or Light From The Other Side
by Elisabeth d' Esperance
1897
Shadow Land is the personal history of Victorian spiritualist and celebrity medium Elizabeth d'Espérance, renown throughout Europe for the dramatic, full-form spirit manifestations she performed before astonished sitters. Weaving the events of her life into a thoroughly engaging narrative, she recounts the passage of her childhood in the company of otherworldly "shadow people," her early forays into automatic writing and the séance, and their attendant fears of madness and of the Devil. She describes in rich, absorbing detail the subjective experience of inhabiting the medium's altered state, as well as the horror of sensing one's own identity being subsumed by another. A uniquely introspective and powerfully-written memoir, Shadow Land is the story of an extraordinary, life-long quest for the truth that resolves in a passionate visionary experience and a message of hope.