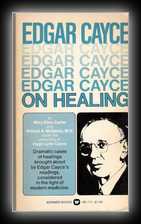 Edgar Cayce on Healing
by Mary Ellen Carter, William A. McGarey, M.D.
1972
Edgar Cayce was an American who was believed to be a psychic. He is said to have demonstrated an ability to channel answers to questions on subjects such as health or Atlantis, while in a self-induced trance. During Cayce's lifetime (March 18, 1877 to January 3, 1945) he was regarded as a psychic phenomena receiving dozens of letters a day from people asking for his help. Cayce would do up to 8 readings a day to response to these requests, although these readings were emotionally draining and often fatigued him and may have led to his stroke on January 3, 1945. Of the more than 14,000 Cayce readings recorded, nearly 9,000 deal with matters of health. Cayce's ability to diagnose, while in trance, the physical disorders of a person he had never met, who indeed may have been hundreds of miles away, and then suggest an effective treatment, remains one of the most astonishing psychic feats of all time.
In this book a dozen cases are scutinized by Dr. William A. McGarey and journalist, Mary Ellen Carter. They explore what type of person sought Cayce's help and in light of a quarter-century of medical advances since the Cayce readings, how Cayce's often-unorthodox treatment recommendations stand up the test of time. A fascinating and enlightening book on this famous "healer psychic phenomena."