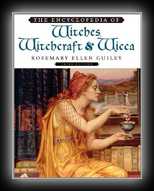 The Encyclopedia of Witches, Witchcraft & Wicca
by Rosemary Ellen Guiley
1989
With more than 500 entries and 100 black-and-white illustrations, The Encyclopedia of Witches and Witchcraft gives readers a detailed look at the Craft and its history from its pagan origins to its modern revival. Here, in A-to-Z format, readers will find unparalleled coverage of witchcraft practices around the world in different time periods and societies, including entries on magic, shamanism, the occult, and wizardry. Biographies of the most influential characters in the movement and how they shaped the traditions and practices of their followers are included. Completely updated throughout, this edition features expanded cross-cultural entries and additional historical data.
Among the more than 30 new entries are: Modern Wicca and Paganism, related organizations, and their activities Biographical profiles Magic tools, rituals, and types of divination Fairy lore and other mythological roots of witchcraft Spells, charms, and other witchcraft lore.