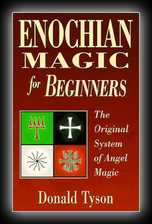 Enochian Magic for Beginners - The Original System of Angel Magic
by Donald Tyson
1997
Some magicians say it is the most powerful magical system ever. The Golden Dawn used it. Aleister Crowley used it. A growing number of magicians use it. And now, you can use it too thanks to Donald Tyson and his book, "Enochian Magic for Beginners.
"Revealed to John Dee and Edward Kelley over 400 years ago, much of this system has been ignored or misunderstood, even by famous magicians. Some of the source material has been fragmented, obscure, or unavailable. Thankfully, Mr. Tyson has worked long and hard to rediscover what was missing and piece together what had been changed.
Make no mistake--this is not a superficial treatment of Enochian magic. Yes, it is written for beginners, but it is also a vital and important resource for those who are currently practicing the Enochian system.
Most people today follow the Golden Dawn's method of Enochian magic. But did you know that they left out a major portion of the system? It's true! They did not include the "Heptarchia Mystica," a manuscript discovered amongst John Dee's belongings. In "Enochian Magic for Beginners, " you will learn the secrets of the "Heptarchia Mystica," including such things as the Angelic seven rulers, the preparations for practice of the system, and how to perform the ritual of the system.
But the Golden Dawn Enochian system is also quite powerful, and you will learn all of the inner secrets of this system so you can practice it on your own.
Also included are two new designs for Enochian typefaces, Donald Tyson's reconstruction of the Enochian Book of Spirits, and much more.
If you have found that your magic has not been as successful as you would like, this is the book you need to start a new page in your magical career. If you want to learn about the Enochian system, this book is the best introduction to it to date. And if you are already practicing Enochian magic, you will find this book to be a valuable resource.