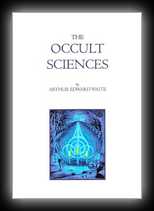 The Occult Sciences - A Compendium of Transcendental Doctrine and Experiment
by Arthur Edward Waite
1891
Embracing an Account of Magical Practices; or Secret Sciences in Connection with Magic; of the Professors of Magical Arts; and of Modern Spiritualism, Mesmerism and Theosophy. "The subject of occultism has been very fully dealt with during recent years by various students of eminence. It has remained for the results of their studies to be condensed into a portable volume, which shall conduct the inquirer into the vestibule of each branch of 'the occult sciences,' and place within his reach the proper means of prosecuting his researches further in any desired direction." Contents: Magical Practices; White Magic: The Evocation of Angels; White Magic Evocation of Spirits; Black Magic; Necromancy; Secret Sciences in Connection with Magic; Alchemy; Elixir of Life; Crystallomancy; Composition of Talismans; Divination; Divining Rod; Astrology; Kabbalism; ; Professors of Magical Art; Mystics; Rosicrucians; Freemasons; Modern Phenomena; Mesmerism; Modern Spiritualism; Theosophy.