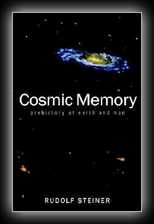 Cosmic Memory
by Rudolf Steiner
1959
The essays contained in this book occupy a significant place in the life-work of Rudolf Steiner. They are his first written expression of a cosmology resulting from that spiritual perception which he described as "a fully conscious standing-within the spiritual world." In his autobiography he refers to the early years of the present century as the time when, "Out of the experience of the spiritual world in general developed specific details of knowledge." (Op. cit. pp. 326, 328.) Steiner has stated that from his early childhood he knew the reality of the spiritual world because he could experience this spiritual world directly. However, only after nearly forty years was it possible for him to transmit to others concrete, detailed information regarding this spiritual world.
As they appear in the present essays, these "specific details" touch upon processes and events of extraordinary sweep and magnitude. They include essential elements of man's prehistory and early history, and shed light upon the evolutionary development of our earth. Published now for the first time in America, just a century after Darwin's Origin of the Species began its transformation of Man's view of himself and of his environment, these essays clarify and complement the pioneer work of the great English scientist.
Rudolf Steiner shows that the insoluble link between man and cosmos is the fundamental basis of evolution. As man has participated in the development of the world we know today, so his achievements are directly connected with the ultimate destiny of the universe. In his hands rests the freedom to shape the future course of creation. Knowledge of his exalted origins and of the path he followed in forfeiting divine direction for the attainment of his present self-dependent freedom, are indispensable if man is to evolve a future worthy of a responsible human being. This book appears now because of its particular significance at a moment when imperative and grave decisions are being made in the interests of the future of mankind.