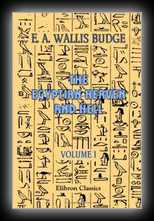 The Egyptian Heaven and Hell: Volume 1 The Book Am-Tuat
by E.A. Wallis Budge
1905
This book is an Ancient Egyptian cosmological treatise which describes the Tuat, the underworld that the boat of the Sun God, Ra, traverses during the night hours. Each chapter deals with one of the twelve hours of the night. A hallucinogenic travelogue of the netherworld, this extensively illustrated book depicts hundreds of gods and goddesses that appear nowhere else in the literature.