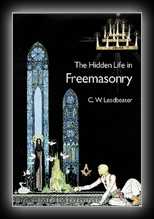 The Hidden Life in Freemasonry
by C.W. Leadbeater
1926
If you are satisfied with regular business meetings and great fish fries, then this is NOT the Masonic book for you.
This classic Masonic esoteric work is designed for the student seeking far deeper meanings in Masonry. In the words of the author: "Although the book is primarily intended for the instruction of members of the Co-Masonic Order, whose desire, as is expressed in their ritual, is to pour the waters of esoteric knowledge into the Masonic vessels, I hope nevertheless that it may appeal to a wider circle, and may perhaps be of use to some of those many Brn. in the masculine Craft who are seeking for a deeper interpretation of Masonic symbolism than is given in the majority of their Lodges ..."
C.W. Leadbeater (1854-1934), was an English clergyman and respected theosophical author. Leadbeater is the author of the popular "Freemasonry and Its Ancient Mystic Rites." This is an indespensible work for the esoteric Mason. Foreword by Annie Besant.