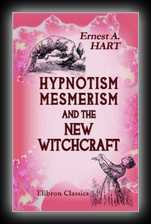 Hypnotism, Mesmerism and the New Witchcraft
by Ernest Hart
1896
Scientific papers which originally appeared in "The Nineteenth Century" and the "British Medical Journal" became more widely available when collected in this volume originally published in 1896. In the preface, the author expresses his hope that these papers "will serve a useful purpose in dissipating some popular errors and a good deal of pseudo-scientific superstition, superimposed on a slender basis of physiological and pathological phenomena. They may be of some use. also, in unmasking a prevalent system of imposture...."
Hart's view of the emergence of hypnotism and mesmerism as alternative sciences, includes chapters on "Hypnotism, Animal Magnetism and Hysteria" and "Confessions of a Professional Medium." The appendix to this second edition includes sections on automatic writing, the "eternal gullible," as well as the hypnotism of Trilby. Illustrated throughout with black& white photographs and line-drawings.