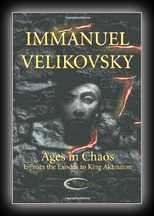 Ages in Chaos I: From the Exodus to King Akhnaton
by Immanuel Velikovsky
1952
This is the first volume of the series Ages in Chaos, in which Immanuel Velikovsky undertakes a reconstruction of the history of antiquity.
With utmost precision and the exciting style of a presentation that's typical for him he shows, beyond doubt, what nobody would consider possible: in the conventional history of Egypt - and therefore also of many neighboring cultures - a span of 600 years is described, which has never happened!
This assertion is as unbelievable and outrageous as the assertions in Worlds in Collision or Earth in Upheaval. But Velikovsky takes us on a detailed and highly interesting journey through the - corrected - history and makes us a witness to how many question marks disappear, doubts vanish and corresponding facts from the entire Near East furnish a picture of overall conformity and correctness.
You will meet an Egyptian eyewitness of the biblical plagues and the mysterious Queen of Sheba. You will find out to where her legendary visit led her. You will, moreover, learn surprising details about the temple of Solomon and learn who was behind its sacking.
In the end you do not only wonder how conventional historiography has come into existence, but why it is still taught and published. Just as Velikovsky became the father of "neo-catastrophism" by Worlds in Collision, he became the father of "new chronology" by Ages in Chaos.