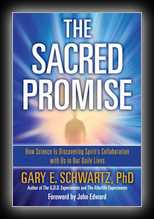 The Sacred Promise: How Science Is Discovering Spirit's Collaboration with Us in Our Daily Lives
by Gary E. Schwartz, Ph.D.
2001
Sacred Promise brings us into the laboratory of scientist Dr. Gary Schwartz, where he establishes the existence of Spirit by its own Willful Intent – a proof of concept for deceased spirits. The author takes readers on a personal journey into the world of angels and spirits and reveals their existence and desire to help.
Dr. Schwartz candidly discusses the challenges as well as the rewards of connecting with Spirit. He poses several important questions. What if our feelings of emptiness, loneliness, hopelessness, and meaninglessness are actually fostered by our belief in a "spiritless" Universe? What if our physical hunger is symptomatic of a greater spiritual hunger? What if Spirit is actually all around us, ready to fill us with energy, hope, and direction, if we are ready to ingest it? What if Spirit is like air and water, readily available for us to draw within; that is, if we choose to seek it?
Sacred Promise shows how we can attune ourselves and receive this guidance from Spirit, which is all scientifically documented by Dr. Schwartz experiments and research. Prepare to suspend your beliefs about Spirit.