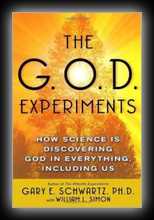 The G.O.D. Experiments
by Gary Schwartz, William L. Simon
2006
According to highly esteemed scientist Gary E. Schwartz, Ph.D., there is compelling scientific evidence that we no longer have to accept God on faith alone. Through a multidisciplinary approach, Harvard University-educated Dr. Schwartz blends psychology, quantum physics, and mathematics to examine the science of spirit. And since faith and science are not mutually exclusive, Dr. Schwartz gives a better understanding of their relationship, explaining how God operates in everything we do.
Scientifically rigorous and spiritually reassuring, The G.O.D. Experiments is a wake-up call for anyone who wonders about life's true meaning and longs to believe in the existence of a universal intelligence.