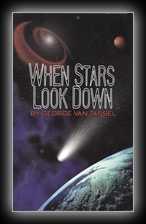 When Stars Look Down
by George W. Van Tassel
1976
This book is the compiled writings of George Van Tassel over a period of 20 years , brought to the reader under one cover .New and exciting viewpoints on many subjects , especially science and religion.
George Wellinton Van Tassel was born in Jefferson , Ohio , in 1910. He move to California in 1930 , where after nearly twenty years in aircraft work , his love for the California desert led him to lease Giant Rock Airport, an abandoned airport, from the federal government. During this period of time Mr. Van Tassel became the foremost pioneer in Advanced Mental Telepathy as a result of contacts with intelligences from other worlds .Mr Van Tassel passed away in 1978.