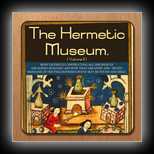 The Hermetic Museum Volume 2
by Arthur Edward Waite, Hermes Trismegistus
1678
The Hermetic Museum restored and enlarged was published in Latin at Frankfort, in the year 1678, and, as its title implies, it was an enlarged form of an anterior work which, appearing in 1625, is more scarce, but, intrinsically, of less value.
Its design was apparently to supply in a compact form a representative collection of the more brief and less ancient alchemical writers; in this respect, it may be regarded as a supplement to those large storehouses of Hermetic learning such as the Theatrum Chemicum, and that scarcely less colossal of Mangetus, the Bibliotheca Chemica Curiosa, which are largely concerned with the cream of the archaic literature, with the works of Geber and the adepts of the school of Arabia, with the writings attributed to Hermes, with those of Raymond Lully, Arnold de Villa Nova, Bernard Trevisan, and others.
Arthur Edward Waite (October 2, 1857 – May 19, 1942) was a scholarly mystic who wrote extensively on occult and esoteric matters, and was the co-creator of the Rider-Waite Tarot deck. As his biographer, R.A. Gilbert described him, "Waite's name has survived because he was the first to attempt a systematic study of the history of western occultism — viewed as a spiritual tradition rather than as aspects of proto-science or as the pathology of religion."