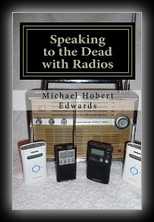 Speaking to the Dead with Radios: Radio Sweep Electronic Voice Phenomena
by Michael Hobert Edwards
2012
Speaking to the Dead with Radios I will tell you is not this just another fish story to reel in readers for momentary mind entertainment. Communicating with the dead using a radio with recorder is achievable and any person can do it. You do not need to be a psychic, a medium or have any paranormal gifts to make contact with the dead using these devices. That is the luxury of this in that you do not have to pay someone else hundreds or even thousands of dollars to contact your deceased family members or friends as you can do it yourself in the privacy of your own home.