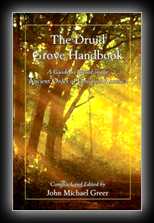 The Druid Grove Handbook
by John Michael Greer
2011
Since its origins in the early eighteenth century, Druidry-a modern movement of nature spirituality drawing much of its inspiration from Celtic tradition-has evolved a rich body of ceremonial and collective practice.Celebrated privately within groves this body of lore provides a ritual framework for the celebration of the seasonal cycle and the spiritual development of the individual.
To this wealth of tradition, The Druid Grove Handbook is one of the few publicly available sources. Compiled from the records of the Ancient Order of Druids in America (AODA), and edited by the AODA's current Grand Archdruid, widely read author and environmental blogger John Michael Greer, it provides a detailed survey of the evolution of AODA's ceremonial traditions, and the complete rituals for opening and closing a Druid grove, initiating candidates for membership, and celebrating the solstices and equinoxes, the four primary holy days of the traditional Druid year.