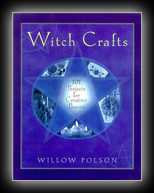 Witch Crafts
by Willow Polson
2001
Whether you're a novice crafter into Norse lore or a practicing Pagan in need of personal tips on Celtic leatherwork, this handy, easy-to-use book will charm you and your entire family. The enchanting designs represent authentic Pagan lore and culture, and can be used for both practical and sacred purposes. Learn how to make a variety of unique items to delight all the senses, including:
Celtic Pentacle Banner
Carved Lotus Pillar Candle
Quilted Leather Book of Shadows Cover
Beaded Egyptian Collar
Topsy Turvy Goddess Doll
Pennsylvania Dutch Hex Sign
Almost every project in Witch Crafts can be constructed from readily available materials like wood, clay, wax, glass, and fabric, and there are crafts for all ages and skill levels. You'll also get detailed, step-by-step instructions, complete with tips, techniques, suppliers, and diagrams to help even beginners create elegant products.
The finished works of art make wonderful, personalized holiday gifts -- the book itself is a perfect present for that special person. So put some magic in your life withthis one-of-a-kind guide.