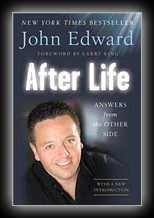 After Life: Answers from the Other Side
by John Edward
2003
What happens after we die?
The acclaimed medium takes his talents to new levels and new countries! For After Life, John and a documentary crew traveled to Australia and across the United States, where he demonstrated once again that grief, healing, and hope are eternally intertwined. He answers his fans' most-asked questions about the mediumship process and how it works, while revealing his own personal life as a husband and new father. Edward also shares what he's learned through his own personal losses and demonstrates that it's never too late to forgive…and never too far away to love.
John also connects with celebrities both here and on the other side.