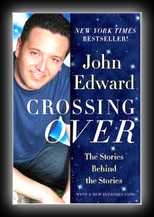 Crossing Over: The Stories Behind the Stories
by John Edward
2001
John Edward takes his fans with him on the extraordinary journey that has been his life.
In the style of his TV show and personal appearances – poignant, funny, and remarkably candid – John Edward deals head-on with the controversial issues he has confronted on his voyage as a psychic medium. On his way to success and fame, John had to learn his own lessons about the meaning of his work, the motivations of some of the people he encountered, and the spirits who accompanied them. Through his very personal stories, John has brought peace and insight to those grieving for their loved ones. But what makes Edward's memoir unique is how readily he exposes his own vanities and ego bruisings.
In addition, he provides a behind-the-scenes look at being a television medium, offering an amusing – and at times disturbing – look at how the ethereal world clashes with the celebrity world.
John Edward's wit, warmth, and passion will captivate readers, just as it has riveted the millions who view his landmark program.