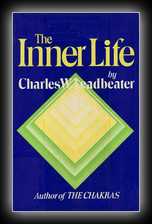 The Inner Life
by Charles W. Leadbeater
1910
1911. The After-death Life; Conditions after death; Animal obsession; Heaven -life conditions; Astral work; Intuition and impulse; Clairvoyance; How past lives are seen; The earth chain; The return to birth; The karma of death; Animal karma.
A primer of theosophy, drawn from theosophical talks at Adyar. Contents: Great Ones and the way to them; Religion (Theosophical comparative religion); Theosophical attitude (Theosophical teachings for daily living); Higher planes (nirvana, the triple spirit, buddhic consciousness, experience, the spheres); Ego and his vehicles (troubles caused by the Ego, with the theosophical response).