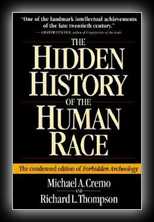 The Hidden History of the Human Race
by Michael A. Cremo, Richard L. Thompson
1994
A teeth-rattling new hypothesis which actually carries modern human existence back millions of years.

Major Scientific Cover-up Exposed.

"Hidden History is a detective novel as much as a scholarly tour de force. But the murderer is not the butler. Neither is the victim a rich old man with many heirs. The victim is man himself, and the role of the assasin is played by numerous scientists."
-Dr. Mikael Rothstein, Politiken Newspaper, Denmark


About the Author
Michael A Cremo is a research associate of the Bhaktivedanta Institute specializing in the history and philosophy of science. His persistent investigations during the eight years of writing Forbidden Archeology documented a major scientific cover-up. Richard L. Thompson, founding member of the Bhaktivedanta Institute, received his Ph.D. in mathematics from Cornell University.