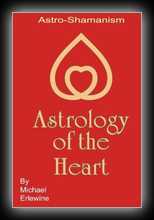 Astrology of the Heart: Astro-Shamanism
by Michael Erlewine
2006
Astrology of the Heart will be of interest to the counseling astrologer who wants to understand the shamanic nature of astrology at a deeper level.
This book is about life paths, rites of passage, climacteric years, turning points in the life, and how to find and understand them in your horoscope. Not abstract theory, but a practical manual to understanding what out-of-the-body experience, the chakras, initiation, and other esoteric topics are really about.
As Erlewine says, "The esoteric is hidden in, of all places, plain sight!; What is missing is our being able to grasp these experiences. This book shows you how."
Forward by Steven Forest: "Walking his talk, Erlewine has placed a stepping stone between two very different worlds. He stands on that middle stone, with white water roaring all around him. And his finger is pointing at the moon... I find myself filled with gratitude toward Michael, and also with a sense of encouragement... This is beautiful stuff."